By Kevin Opsahl | Mail Tribune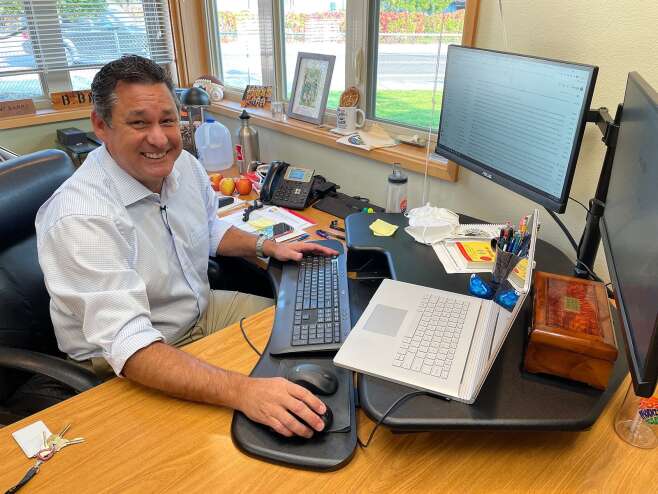 Bill would allow the district ravaged by the Almeda fire to recoup funding
Fulfilling a promise she made for the 2022 legislative session, Rep. Pam Marsh, D-Ashland, has introduced a bill that would help the Phoenix-Talent School District recover the money it lost as a result of the Sept. 8, 2020 Almeda fire.
House Bill 4026 would provide grant funding through the 2024-25 school year to help districts make up the difference between the funding per pupil they received in 2019 — before the fires — and the revenue that would otherwise be allocated to the district in the current year.
The bill, which faces a hearing Feb. 3 before the House Committee on Revenue, follows another with the same objective that was floated during the previous legislative session but "accidentally fell off the table" in the final hours, according to Marsh.
"People panicked for a day or two, but the leadership said, 'Don't worry. It was an accident … and we will support you in bringing the bill back in the short session,'" Marsh said. "At that point, I started working with (various organizations), and the result is HB4026."
She explained in a recent newsletter to constituents that the short session — to last only 35 days during the second year in a two-year biennium — allows each lawmaker to introduce two "personal bills," and HB4026 is one of them.
The bill directs the Oregon Department of Education to award grants each school year to wildfire-impacted school districts. In order to qualify, districts must show they lost "average daily membership" of students as a result of the fires since the 2019-20 school year.
"These school districts are doing yeoman's work — they are taking care of children and families who still carry the brunt of the trauma they experienced during the fire," Marsh said. "In a post-disaster situation like this, we need to invest in school districts so they can really meet the comprehensive needs of students in families, who are, in some cases, in recovery and in some cases really still in the middle of a crisis."
She was referring to families who are still displaced as a result of the fires, living in temporary housing. That includes The Gateway Project, which consists of new, 37-foot-long Palomino Puma travel trailers supplied by the state on four acres of land at the corner of Highway 99 and West Valley View Road in Talent.
Phoenix-Talent School District Superintendent Brent Barry is aware of the tough circumstances many of his families are facing more than a year out from the Almeda fire. He said a bill like HB4026 is more critical than when he first commented on it in the fall, since the district has actually lost more students since then.
"Which is sad. You can't just put a marker in time and say, 'We've lost this many kids,'" Barry said. "If you're living in a hotel or transitional or emergency housing and you have a permanent space you can rent or buy that's in another district, I don't blame our families. But it just really highlights the importance of getting this funding secured for several years."
According to the Oregon Department of Education's "at-a-glance snapshot" enrollment figures for the district, it had 2,578 students as of Oct. 1, 2019. This school year, as of Sept. 16, 2021, the district's ADM was 2,199 students. That amounts to a loss of 379 students.
Having examined the language of the bill, Barry said, "this will meet our needs," allowing the district to keep staffing programming and support.
"What we shared with our legislative (representatives) is, we don't want the Almeda fire to traumatize our community twice," the superintendent said. "Losing funding, which impacts our education system, could have another traumatic effect. We know we will recover, but it's going to take some time, and we just need a stop gap in between there."
The school board is in the midst of budgeting for the next school year, but since HB4026 is not far enough along in the legislative process, Barry said it is difficult to say how this bill will affect the district for next year.
"We know if we don't get ADM security, we're going to have some deficits going into next year," Barry said. "We're hoping that we can have a commitment from the Legislature within two to three weeks, and then we can make a more accurate budget as we move into the spring."
The bill's sunset provision is in 2025, but Marsh said there may be a readjustment period when that time comes.
"It's not clear that all the students will make it back to Phoenix-Talent," she said.
For now, the Ashland lawmaker believes school needs to be a place that's stable and fun and supportive.
"So we cannot cut their budgets when the work is more important than ever," Marsh said.