By Kevin Opsahl for the Mail Tribune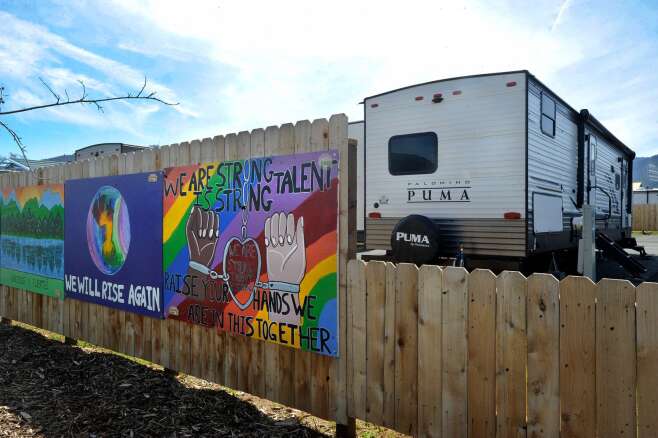 Gov. Kate Brown signs law allowing the district to get state grants to make up for money from lost students
The Phoenix-Talent School District will get a shot in the arm with cash to recoup what it lost when students were displaced by the Almeda fire in 2020.
Gov. Kate Brown signed House Bill 4026 Wednesday, clearing the way for Phoenix-Talent (as well as the McKenzie, Lincoln County and Santiam Canyon school districts) to tap into $25 million worth of grant funding from the Oregon Department of Education.
"The governor's desk was the last stop for our bill," said Rep. Pam Marsh, D-Ashland, who made HB 4026 a top priority in the 2022 short legislative session. "Now we know that wildfire-impacted school districts, including Phoenix-Talent, can count on stable funding for the next few years.
"That's a huge relief as we continue recovery efforts," Marsh wrote in an email. "I'm deeply grateful for the universal support the bill received from legislators from all over the state — and I am thrilled to have HB 4026 signed."
Superintendent Brent Barry told the newspaper in an email he was "relieved and grateful" the bill got Brown's signature.
"This allows our district to recover and support our students, families and community over the next few years without making drastic cuts in staffing and programs in the immediate future," Barry said.
The school year resumes on Monday, March 28.
It will be up to the Phoenix-Talent School Board to disburse the new funds the district gets. The board's next meeting is set for 6 p.m. April 7.
A meeting agenda for the meeting was not yet posted on the district's website Friday. Phoenix-Talent School Board Chair Dawn Watson said topics of discussion won't be set for several more days, until she meets with Barry.
Watson was not sure whether the school board would have to pass a resolution for the district to tap into HB 4026's funds. She said the new money would play a critical role in conversations in May, when the board meets to discuss the budget.
"The plan for this money is to help with the gap of students leaving so we can continue these programs we are currently offering to the students, and we don't have to cut teachers or aides or any of these programs," Watson said.
"I think it will be great overall, and we really look forward to involving the public with the budget process," Watson said.
She thanked Marsh for making the new legislation possible.
"She watches out for our kids and our families — and when she says she's going to do something, she does it," Watson said.
Reach reporter Kevin Opsahl at 541-776-4476 or [email protected]. Follow him on Twitter @KevJourno.