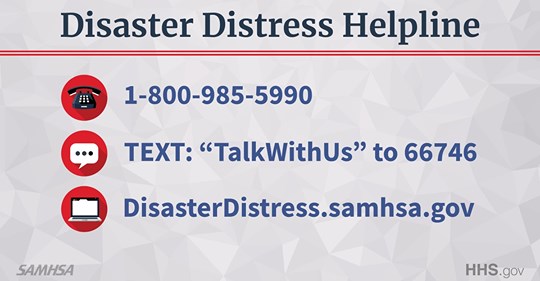 Many of us are sad, anxious, traumatized and grieving after the fire. Please consider calling this hot line for emotional support:
SALEM, OR – It is normal to feel sad, stressed or overwhelmed after a major disaster. For adults and children having negative feelings or thoughts, free crisis counseling is available through the Substance Abuse and Mental Health Services Administration's (SAMHSA) Disaster Distress Helpline.
Call 800-985-5990 (Spanish Press 2) or text "TalkWithUs" to 66746 (for Spanish text "Hablamos" to 66746) to connect with a trained crisis counselor. SAMHSA's Disaster Distress Helpline provides free, 24/7, 365-day-a-year crisis counseling and support to people experiencing emotional distress related to natural or human-caused disasters.
Stress, anxiety, and other depression-like symptoms are common reactions after a disaster. This national hotline provides immediate crisis counseling for people who are feeling emotional distress related to any natural or human- caused disaster. The hotline is toll-free, multilingual, and confidential, offering crisis support service to all residents in the United States and its territories.
Counselors can also provide information about recognizing emotional distress and its effects, coping tips and referrals to other call centers for more support.
For more information about who is most at risk for emotional distress from wildfires and to find related resources, visit https://www.samhsa.gov/find-help/disaster-distress-helpline.
Comunicado de Prensa
¿Los incendios forestales le han estresado, angustiado? Ayuda gratuita a solo una llamada o mensaje de texto
SALEM, OR – Es normal sentirse triste, estresado o angustiado después de un gran desastre. Para los adultos y niños que tienen sentimientos o pensamientos negativos, hay asesoramiento gratuito sobre crisis disponible a través de la línea de ayuda de la Administración de Servicios para el Abuso de Sustancias y Enfermedades Mentales (SAMHSA, por sus siglas en inglés) para la Salud Mental en Casos de Desastre.
Llame al 800-985-5990 (presione 2 para español) o envíe un mensaje de texto "Hablamos" a 66746 para comunicarse con un consejero de crisis capacitado. La línea de SAMHSA para la Salud Mental en Casos de Desastre proporciona asesoramiento y apoyo en caso de crisis de forma gratuita, 24/7, los 365 del año, a las personas que experimentan angustia emocional relacionada con desastres naturales o causados por el hombre.
El estrés, la ansiedad y otros síntomas parecidos a la depresión son reacciones comunes después de un desastre. Esta línea telefónica nacional ofrece asesoramiento inmediato en caso de crisis a las personas que sienten angustia emocional relacionada con cualquier desastre natural o causado por el hombre. La línea directa es gratuita, multilingüe y confidencial, y ofrece un servicio de apoyo en caso de crisis a todos los residentes de los Estados Unidos y sus territorios.
Los consejeros también pueden proporcionar información sobre cómo reconocer la angustia emocional y sus efectos, consejos para hacer frente a la situación y referir a otros centros de llamadas para obtener más apoyo.
Para obtener más información sobre quiénes corren mayor riesgo de sufrir angustia emocional a causa de los incendios forestales y para encontrar recursos relacionados, visite https://www.samhsa.gov/disaster-distress- helpline/espanol.
###